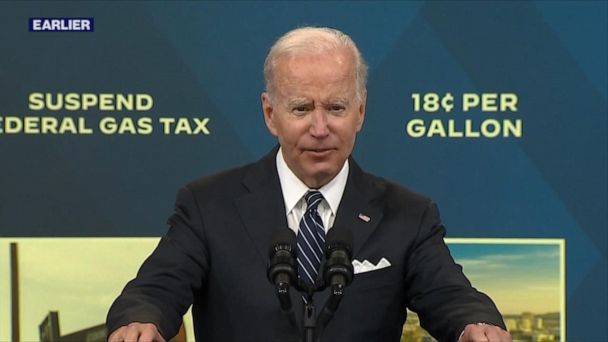 President Joe Biden on Wednesday called on Congress to suspend federal gasoline and diesel taxes for three months — an election-year move meant to ease financial pressures that was greeted with doubts by many lawmakers.
The Democratic president also called on states to suspend their own gas taxes or provide similar relief, and he delivered a public critique of the energy industry for prioritizing profits over production. It would take action by lawmakers in Washington and in statehouses across the country to actually bring relief to consumers.
"It doesn't reduce all the pain but it will be a big help," Biden said, using the bully pulpit when his administration believes it has run out of direct levers to address soaring gas prices. "I'm doing my part. I want Congress, states and industry to do their part as well."
At issue is the 18.4 cents-a-gallon federal tax on gas and the 24.4 cents-a-gallon federal tax on diesel fuel. If the gas savings were fully passed along to consumers, people would save roughly 3.6% at the pump when prices are averaging about $5 a gallon nationwide.
Biden's push faces uphill odds in Congress, which must act in order to suspend the tax, and where many lawmakers, including some in his own party, have expressed reservations. Even many economists view the idea of a gas tax holiday with skepticism.