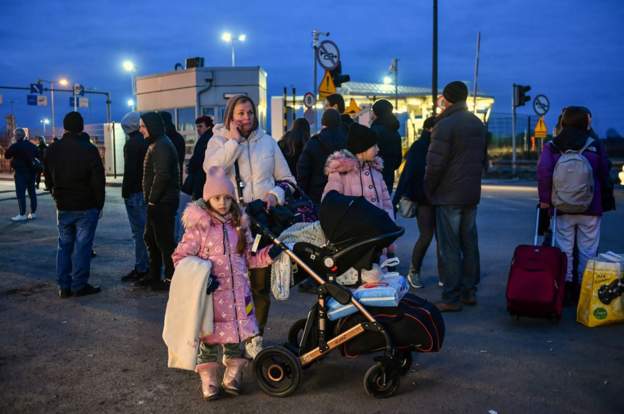 Earlier we brought you the story of a couple from Ukraine's territorial defence forces who got married on the outskirts of Kyiv.
The Kyiv mayor, former boxer Vitali Klitschko, was one of the first to congratulate the couple.
More than one million refugees have now crossed the border from Ukraine into Poland since the start of the Russian invasion on 24 February, Polish border guards say.
"Today at 8:00 pm (1900 GMT) the number of people from Ukraine into Poland exceeded a million. This is a million human tragedies," the border guard service said on Twitter.
More than 1.5 million people have fled Ukraine in just 10 days, according to the UN refugee agency (UNHCR).
Filippo Grandi, the agency's high commissioner, has called it the fastest growing refugee crisis in Europe since World War Two.
The map below – based on UN figures, which won't be updated until tomorrow – shows where else refugees are heading.
Hundreds of Ukrainian doctors do online war surgery course
Hundreds of Ukrainian doctors have been taking part in an online war surgery course based in the UK.