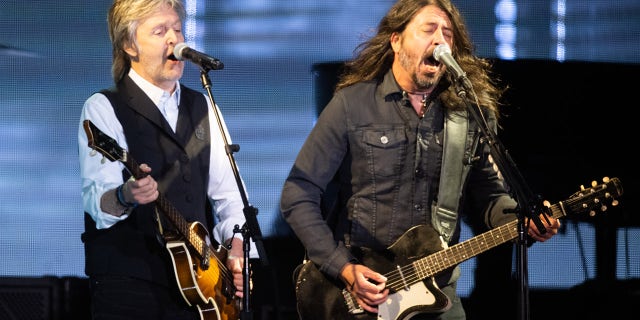 Sir Paul McCartney brought Dave Grohl on stage during his headlining appearance at the Glastonbury Festival Saturday night in England, marking Grohl's first performance since the death of friend and longtime Foo Fighters' drummer Taylor Hawkins in March.
The 53-year-old musician's last show was with Hawkins at Lollapalooza Chile March 20. Hawkins died in his hotel room in Bogotá, Colombia, March 25.
While an official cause of death is still pending, a urine toxicology test confirmed at least 10 psychoactive substances were in Hawkins' system at the time of his death.
McCartney welcomed Grohl to the stage with open arms as thousands of fans watched the set at Worthy Farm.
"I've got a little surprise for you. My friend from the West Coast of America, Dave Grohl," McCartney announced.
The duo performed "I Saw Her Standing There" and "Band on the Run" before Bruce Springsteen joined them on stage.
"I swear I would never miss being on stage with you right now," Grohl said.