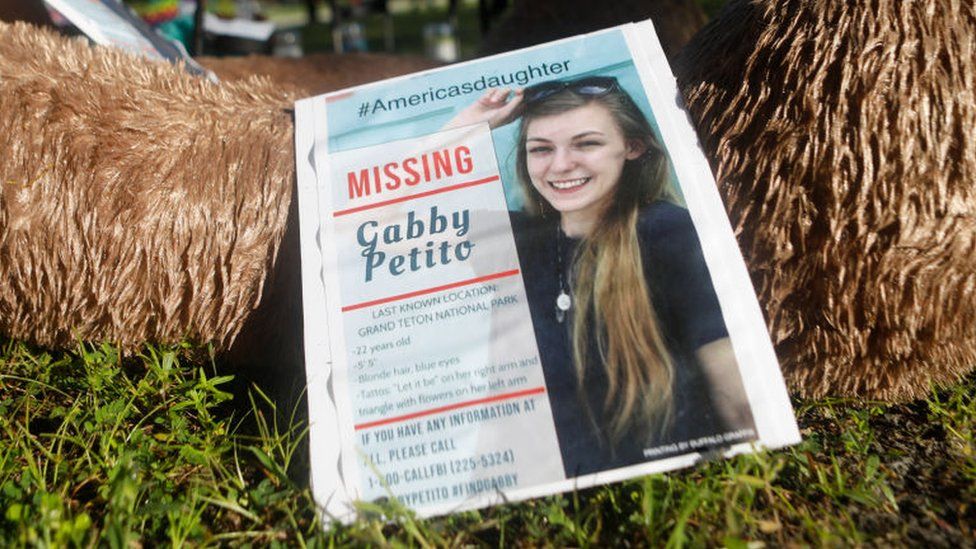 The FBI has confirmed that a body found inside a Wyoming national park on Sunday belongs to the missing "van life" blogger Gabby Petito.
A coroner made an initial finding that her death was homicide but gave no indication as to how she died.
Ms Petito, 22, was visiting Grand Teton National Park with her fiancé, Brian Laundrie, 23.
Police are currently searching for Mr Laundrie, whose whereabouts are unknown.
He is considered a "person of interest" in the case, but has not been charged with any crime.
No details from the post-mortem have been released.
"Teton County Coroner Dr Brent Blue confirmed the remains are those of Gabrielle Venora Petito… Coroner Blue's initial determination for the manner of death is homicide," the FBI's Denver office tweeted.
The couple had been travelling for several weeks before Mr Laundrie returned home to Florida alone with their white van on 1 September. He did not contact police or the Petito family on his return.
Ms Petito's family reported her missing 10 days later.
Several weeks earlier, police in the Utah town of Moab were called to a possible domestic violence incident.