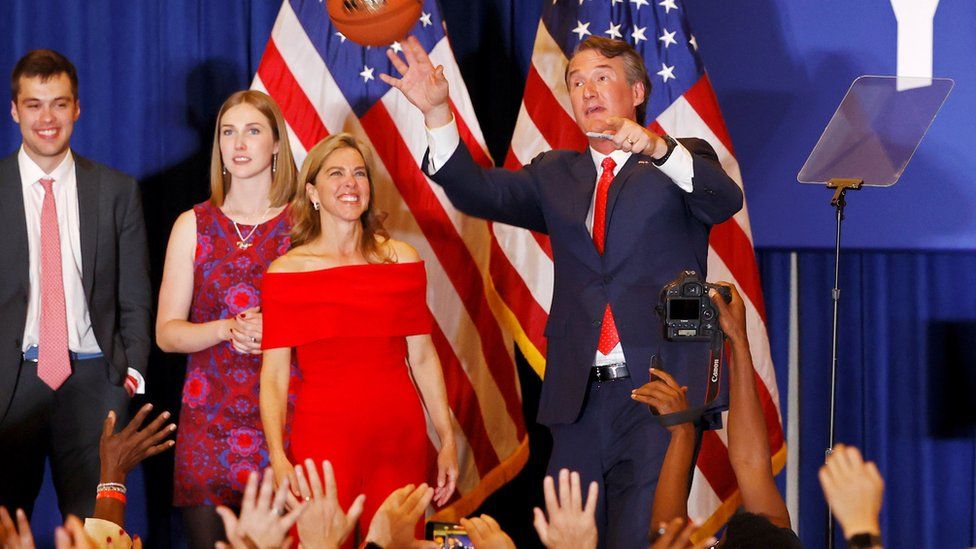 Republican Glenn Youngkin has been elected as Virginia's next governor in a major upset, with his Democratic opponent conceding the race.
The ballot has been widely seen as a referendum on Joe Biden's presidency, and defeat will unnerve the Democrats.
He won by 10 points in Virginia in the presidential election just a year ago.
But rising inflation, a slow economic recovery, a deadlocked legislative agenda and the chaotic withdrawal from Afghanistan have hit his popularity.
In a speech to cheering supporters, Mr Youngkin promised to get to work straight away to transform the state.
"We work in real people time, not government time," the Republican declared.
Key takeaways from a bad night for Joe Biden
Mr McAuliffe served as governor from 2014-18. His opinion poll lead vanished in recent weeks, and in a statement after his loss said he had "come up short" but insisted the state remained on a path towards "inclusion, openness and tolerance for all".
The state's current, Democratic governor, Ralph Northam, was unable to stand for re-election as Virginia does not allow governors to serve consecutive terms in office.