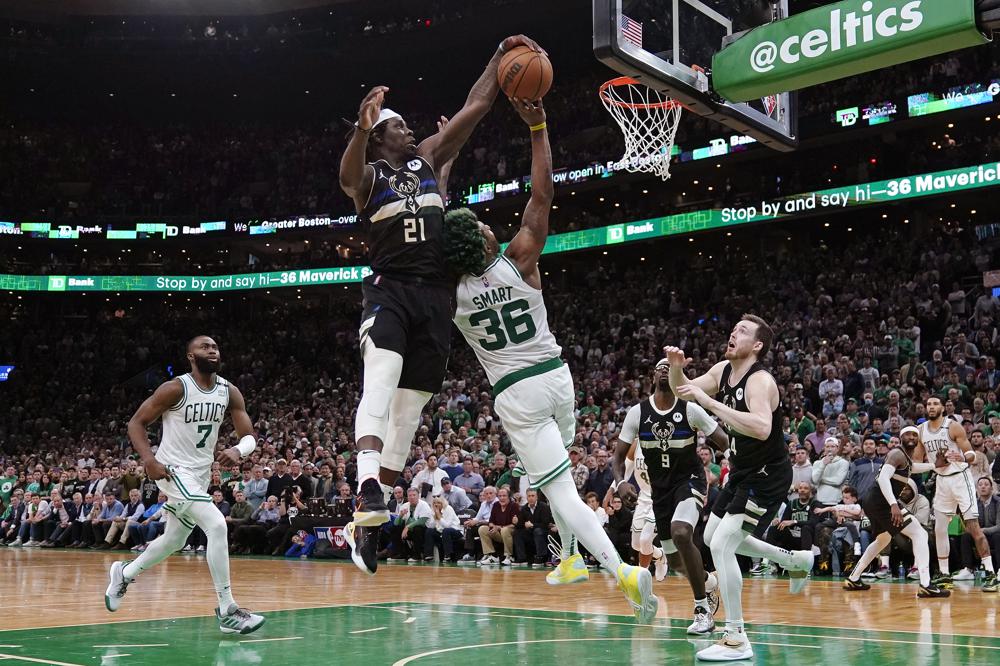 Giannis Antetokounmpo was having his best shooting night of the playoffs. Milwaukee dominated on the boards. And still the Bucks trailed Boston by 14 points in a game that could send the defending NBA champions to the brink of elimination.
That's when Jrue Holiday showed the Defensive Player of the Year a thing or two about defense.
Bobby Portis put back Antetokounmpo's missed free throw with 15 seconds left, and Holiday snuffed Marcus Smart on Boston's final two possessions Wednesday night as Milwaukee erased a 14-point, fourth-quarter deficit to beat the Celtics 110-107 and take a 3-2 series lead.
"Obviously, in Boston you're down 14 in the fourth quarter, people would say everything's against us. But we come together," said Holiday, who also hit the tying 3-pointer with 43 seconds left. "We live and die like that."
Antetokounmpo had 40 points and 11 rebounds, making 16 of 27 shots — including a long 3-pointer to make it 105-102 with 1:40 to play. Holiday finished with 24 points, eight rebounds and eight assists and Portis added 14 points and 15 rebounds. The Bucks can advance to the Eastern Conference finals with a victory in Game 6 at home Friday night.