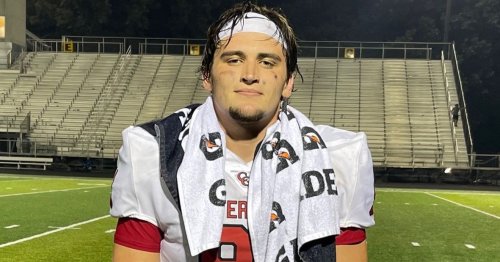 Greenwood (Ind.) Center Grove Top247 defensive lineman Caden Curry has locked in his college decision date for Tuesday, Dec. 14, at his high school. It will be broadcasted live at 3:30 EST on CBS Sports HQ.
Curry's finalists include Alabama, Indiana and Ohio State. He visited each of those programs in the summer and returned for at least one game at each place during the fall. Buckeyes coach Ryan Day and Hoosiers coach Tom Allen both were in-home in the last week to make a final pitch.
Ohio State is the 247Sports Crystal Ball favorite for Curry who ranks as the nation's No. 14 defensive lineman and No. 88 prospect overall per the 247Sports Composite. A four-year starter on the prep level for one of the country's best high school programs, Curry has racked up 290 tackles including 83.5 stops for loss and 28 sacks. He also has five rushing touchdowns and two receiving scores.
Curry will play in the All-American Bowl in January before enrolling early at the school of his choice.
Here is 247Sports Scouting Report on Curry written by National Analyst Allen Trieu.